Bakewell & Yorkshire Mineral & Fossil Fairs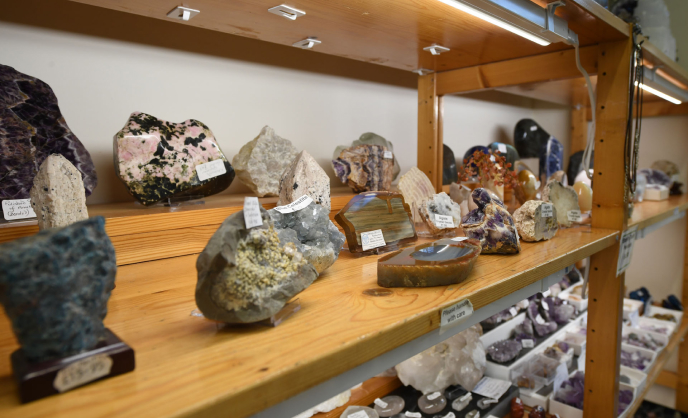 Bakewell & Yorkshire Mineral & Fossil Fairs
Welcome to The Peak Lapidary and Mineral Society
The Bakewell Rock Exchange
DATE: 14th & 15th October2023 (dates for 2024 12th & 13th October)
VENUE: Lady Manners School, Bakewell, Derbyshire DE45 1JA.
The Bakewell Rock Exchange is recognized internationally as the UK's best loved mineral show, with dealers from around the UK and Europe congregating in the heart of England's Peak District National Park. The show is organized by the Peak Lapidary and Mineral Society and is now in its 39th year.
With more than 70 different dealers exhibiting a huge variety of rocks, minerals, fossils and gemstones, there is something for everyone, from the specialist to the family day out. Read a review.
Opening times: Saturday 10.00 – 5.00 and Sunday 10.00 – 4.30.
Admission: £3.00 per day or £5.00 for both days.
Saturday only: £10 early entry ticket (2-days) allows entry from 9.00!
Accompanied children free.
Disabled access and free parking; hot and cold meals and refreshments available.
'Yorkshire Mineral & Fossil Fair' at The Market House, Hawes DL8 3QN 2024 TBC
A charming venue in the heart of Wensleydale, the Market House has been the centre of Dales Life for many years. It is situated on the main road in the very centre of the town.
£2 entry. Refreshments available, plenty of local parking. ____________________________________________________________________________________________________________________________________________
The Peak Lapidary and Mineral Society is based in the Peak District of Derbyshire and has been in existence since the early 1970s. We have a well equipped workshop in the village of Tideswell and are happy to welcome anyone with an interest in minerals, lapidary and associated crafts; members are always willing to share their knowledge and enthusiasm.
A variety of lapidary skills are available, ranging from the simple cutting and polishing of beautiful mineral specimens, to cabochons, faceting, silver-smithing and jewellery. Collecting trips are arranged throughout the year, including the exploration of working and disused mines and quarries, with guidance and advice given on all aspects of mineral collecting.
Workshop meetings are on the 2nd and 4th Mondays in the month at 7.30.
See contact page for enquiries about the Peak Lapidary and Mineral Society and show, or call – Society: Andy Elliot 01663 733678 Rock Exchange: Don Edwards 01433 620304
Some associated links: British Micromount Society